Inner-city delivery possibilities
More and more cities have some kind of restriction on inner-city transport. Almost every city or major town already have restrictions on exhaust emissions. On top of that, a lot of especially older city centres have various weight and size limitations or have limited access. Furthermore a lot of cities are reviewing their greenhouse gas emissions and are discussing to introduce CO₂ emissions limits or even CO₂ neutral transport (for instance electric) in near future.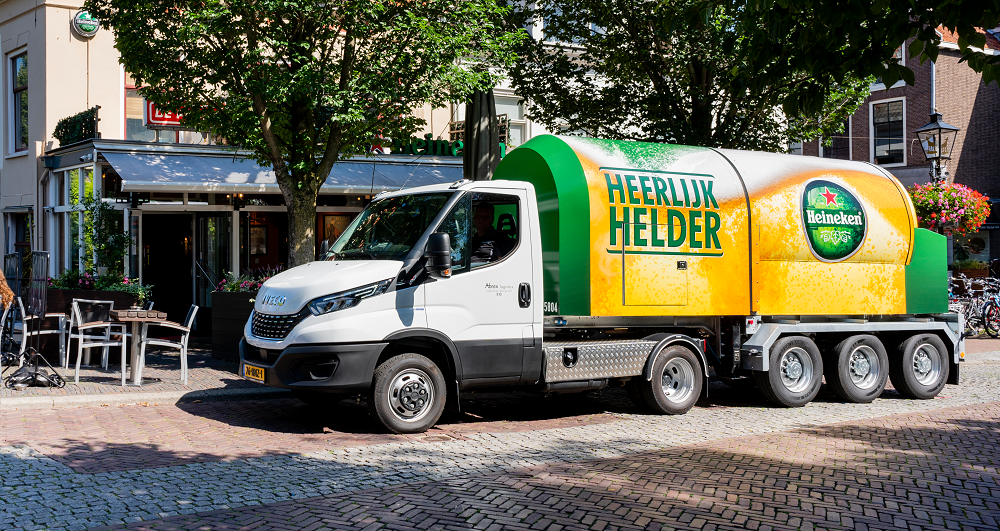 When there is a weight limit of 7,5 Ton or 12 Ton the efficiency drops and CO₂ emission goes up with standard beverage delivery trucks. But not with the lightweight inner-city concept of Duotank. With this system you are able to maintain or even lower your CO2 emissions.
Even when larger volumes need to be delivered especially the lightweight 5.000 liter variant still has a low CO₂ emission compared to traditional larger delivery solutions.
When the brewery is at a distance the light weight tank beer truck can be combined with a clever mobile city hub. In this way you can optimise your inner-city transport and save 23-42% on CO2 emissions. Or even go for zero with a full electric solution.
In our Whitepaper you can read everything about the differences between the different delivery possibilities. Or calculate yourself how much saving you can achieve in our calculation program.
Products for the inner-city transport
Lightweight truck
The lightweight truck is specially developed for transport of beer in a 7,5 Ton or 12 Ton area, or a combination of these.
LGT – Lightweight electric 30HL truck
This truck is completely emission-free and it can deliver 50% more beer per truck to the city centre compared to a conventional diesel truck.
Smart urban on-trade beer delivery: the solution for inner city transport solutions
Increasingly more cities haves some kind of restriction on inner city transport. It can be either a restriction on exhaust emissions or weight restrictions or both: for inner city on-trade beer delivery it can result in quite the challenge. Luckily, there are various new developments that help to cope with todays and tomorrows urban and inner city transport challenges.