Low volume tank beer transport
If you start with tank beer, or only have a few outlets to which you want to transport tank beer, Duotank offers several low volume transport solutions. Most of these solutions are based upon standard event and/or transport tanks which you can use for transport and/or events and/or storage.
The unique Duotank Bag-In-Tank system allows different functionalities to be combined. A chilled/insulated tank can also serve as a basis for further transport, because in combination with a Duotank transport frame, you can use your storage tank as a portable tank. If desired, you can even connect your beer tap straight to this tank, allowing you to serve beer directly. The tank cooling system can easily be connected to your pub or bar's existing cooling circuit. Or you can choose to use an event tank, which already has an incorporated cooler and compressor.
At the bar or restaurant you can push over the beer from the transport tank. You only need a hose to do so.
The logistical process becomes a lot easier!
Heavy beer kegs don't have to be carried around any longer; which allows beer deliveries to be carried out by one person.
The costly process of cleaning and returning the kegs is no longer needed.
Air-tight bags ensure optimal beer quality and only the connections needs to be cleaned.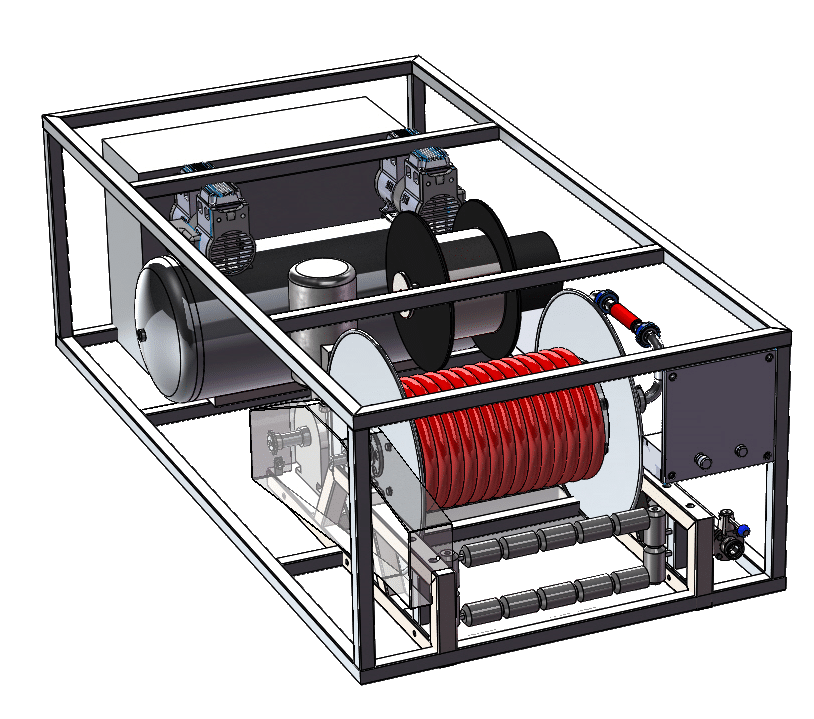 MMU, the mobile Flowmeter
If you want to be able to measure the quantity of beer that you deliver exactly for beer taxes or excise duty you can use the OIMD certified MMU flowmeter. The MMU is fully mobile and can easily be placed in and out of a van. The meter displays the exact volume, or optionally you can print or send a delivery note.
Small delivery unit
The SDU is developed for breweries that want to deliver tank beer in a delivery van or small truck and want to have the same ease of delivery as they have with a big delivery truck. In this way it is possible to deliver beer even in the narrowest city centres.
The SDU is designed in such a way that a transport tank can be placed on top of the unit to save space in the truck. It is even possible to have a SDU in combination with a 500 liter tank in a small van (like a Volkswagen transporter)
Low volume transport products
Delivering beer to a bar: How to reach the lowest Carbon footprint?
Does your current packaging method positively or negatively influences the carbon footprint of your beer? Learn if optimization is possible by looking at the complete chain of producing, filling, transporting and dispensing different types of packaging.