Regional transport solutions
Duotank offers a variety of solutions for your regional tank beer delivery. From a Compact delivery unit with transport tanks which can be placed on any standard truck to a dedicated tank truck. And if you want to combine tank beer distribution and events you can choose for special containers that can be offloaded. Even for area's with with weight limitation Duotank offers solutions.
The unique Duotank Bag-In-Tank system is also ideal for transport solutions. Tanks placed in a chilled container or separate insulated tanks make it possible to always guarantee chilled delivery. To pump the beer into the bar you can use a dedicated certified delivery unit on the truck or a mobile delivery unit together with transport tanks that can be placed on any truck.
The logistical process becomes a lot easier!
Heavy beer kegs don't have to be carried around any longer; which allows beer deliveries to be carried out by one person.
The costly process of cleaning and returning the kegs is no longer needed.
Air-tight bags ensure optimal beer quality and only the connections needs to be cleaned.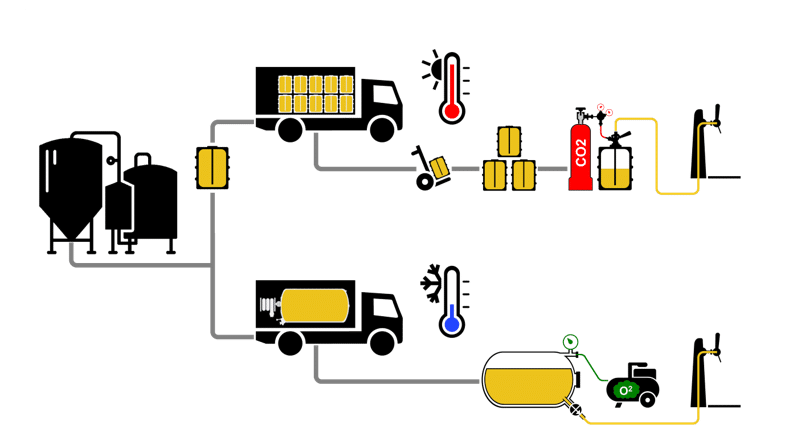 Differences between distribution
In the scheme  you can see the most important differences between the distribution of tank beer and keg beer. There are a few notable steps;
It takes 3 steps to have brewery fresh beer in the bar with the tank beer solution
The beer maintains a constant temperature during transport with the transport solutions of Duotank
No extra CO2 is added to the beer with the tank beer solution
Regional transport products
Delivering beer to a bar: How to reach the lowest Carbon footprint?
Does your current packaging method positively or negatively influences the carbon footprint of your beer? Learn if optimization is possible by looking at the complete chain of producing, filling, transporting and dispensing different types of packaging.